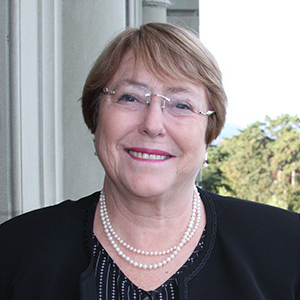 Michelle Bachelet
UN High Commissioner
for Human Rights
Michelle Bachelet
UN High Commissioner
for Human Rights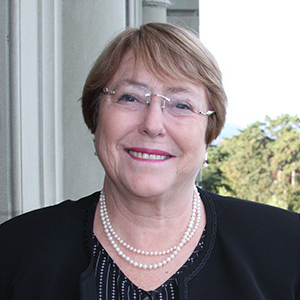 Michelle Bachelet is the UN High Commissioner for Human Rights, with a global mandate to promote and protect human rights.
Prior to her appointment as High Commissioner in September 2018, Ms. Bachelet was twice elected President of Chile (2006 – 2010 and 2014 – 2018). She was the first female president of Chile. She had also previously served as Health Minister (2000-2002) as well as Chile's and Latin America's first female Defence Minister (2002 – 2004).
During her presidential tenures, she promoted the rights of all but particularly those of the most vulnerable. Among her many achievements were education and tax reforms, as well as the creation of the National Institute for Human Rights and the Museum of Memory and Human Rights, and the establishment of the Ministry of Women and Gender Equality, the adoption of quotas to increase women's political participation, and the approval of Civil Union Act legislation, granting rights to same sex couples and thus, advancing LGBT rights.
Ms. Bachelet has also worked closely with many international organizations. In 2010 she chaired the Social Protection Floor Advisory Group, a joint International Labour Organization (ILO) and World Health Organization (WHO) initiative, which sought to promote social policies to stimulate economic growth and social cohesion. She also served as the first Director of UN Women, an organization dedicated to fighting for the rights of women and girls internationally.  Economic empowerment and ending violence against women were two of her priorities during her tenure. She has served as Chair of the Partnership for Maternal, Newborn and Child Health, an alliance of more than 1000 organizations in 192 countries from the sexual, reproductive, maternal, newborn, child and adolescent health communities. As Co-Chair of the High-Level Steering Group for Every Woman Every Child, Ms. Bachelet launched Every Woman Every Child Latin America and the Caribbean, the first platform for tailored, regional implementation of the EWEC Global Strategy.
Michelle Bachelet has a Medical Degree in Surgery, with a specialization in Pediatrics and Public Health.  She also studied military strategy at Chile's National Academy of Strategy and Policy and at the Inter-American Defense College in the United States.
https://www.ohchr.org/EN/AboutUs/Pages/HighCommissioner.aspx
Rana Ayyub
Investigative journalist and Writer at The Washington Post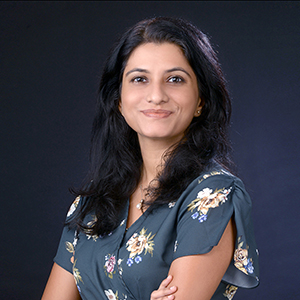 Jeanette Rodrigues
South Asia Managing Editor
for Bloomberg News
Rana Ayyub
Indian investigative journalist and
Writer at the Washington Post
Rana Ayyub is an Indian in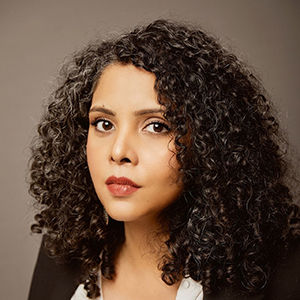 vestigative journalist and a global opinions Editor at the Washington Post. She has worked as a reporter, editor and columnist with some of the leading publications in India and internationally. Her pieces appear in the Time,  New York Times, Guardian and Foreign Policy among other publications.
She was an Editor with Tehelka which was India's groundbreaking investigative magazine.  Rana has reported on religious violence, extrajudicial killings by the state, insurgency in Kashmir , terrorism by the Tamil tigers in Sri Lanka and authored an international bestseller titled "Gujarat Files: Anatomy of a Cover-Up', an undercover investigation which exposes the complicity of the Indian Prime Minister Narendra Modi in state-sponsored genocide. At the age of 26, post getting the first serving Home Minister (Amit Shah) under arrest ,
Rana went undercover with eight cameras on her body posing as a student of the American film institute conservatory in LA. India's leading magazine Outlook called it one of the twenty biggest investigations of all times around the world. Business standard in India called the one of a kind undercover operation a contender for Pulitzer if the award accepted a non American entry.
In December 2019, New Yorker profiled her for its cover story on India. (https://www.newyorker.com/magazine/2019/12/09/blood-and-soil-in-narendra-modis-india)
In a career spanning fifteen years, Rana has been awarded the Sanskriti award for integrity and excellence in journalism by the President of India. She was the recipient of the Global Shining Light award for Investigative journalism in the year 2017 and the Most Resilient Global Journalist of 2018 at the Peace Palace in Hague. In 2019, she was named by Time magazine among ten global journalists who face maximum threats to their lives across the world. In the year, 2018 The United Nations allotted six special rapporteurs to the Indian government to protect her safety, a first for an individual case in India.
In 2020, she was announced as the recipient of the McMgill medal for journalistic courage. She is presently working on a memoir and an adaptation of her book Gujarat Files.
She is 36 and lives in Mumbai with her family
Jeanette Rodrigues
South Asia Managing Editor
for Bloomberg News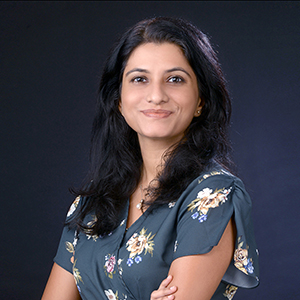 Jeanette Rodrigues is South Asia Managing Editor for Bloomberg News in Mumbai, helping manage an office of more than 20 reporters and editors covering India's largest companies, its financial markets and central bank. Jeanette holds a Master's degree in International Political Economy from the London School of Economics & Political Science. She won the 2017 Excellence in Explanatory Reporting award from the Society of Publishers in Asia.